Nothing But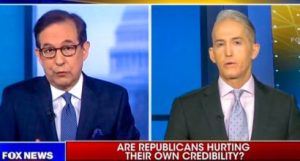 Good Questions:
During an interview on Fox News Sunday, Rep. Trey Gowdy (R-SC) discussed a classified memo prepared by the Republicans on the House Oversight Committee. Gowdy is pushing for the memo to be released so the public can see what role the Steele Dossier played in the FBI's investigation into the Trump campaign. Democrats on the committee oppose releasing the memo.
Wallace asked about the memo: "The House Intelligence Committee is expected to vote this week on whether to release this four-page memo that you had a big hand in writing, that alleges abuse and bias inside the FBI and Justice Dept. As I discussed with Marc Short, the Washington Post is reporting this morning that the president wants to have the memo released. Do you agree with that?"
"I do, I'm sorry we're at this point," Gowdy replied. "This memo is nothing but a distilling, reducing of thousands of pages of documents provided to us by the [DOJ and FBI]. So there is nothing in this memo that the Bureau is not already aware of."
"If you think your viewers want to know whether or not the dossier was used in court proceedings, whether or not it was vetted before it was used, whether or not it's ever been vetted. If you are interested in who paid for the dossier, if you are interested in Christopher Steele's relationship with Hillary Clinton and the Democratic National Committee, then yes, you will want the memo to come out."
"If you are Adam Schiff, who is consistently wrong when it comes to issues of disclosure. He didn't want us to find out any of this information. He fought — in fact, Fusion GPS went to court to keep us from finding out that the Democrats paid for the dossier. If you are Adam Schiff, of course, you don't want the information to come out. You didn't want us to find it in the first place."
"This memo answers what I think overly legitimate questions and I do think the FBI should look at it before it is released. I have provided that counsel to Chairman Nunes, and I think that he has taken that under advisement," Gowdy said.
"I want to play face-off poker. I want the bureau to know everything that's in the memo. I think you will be surprised, it is not a hit piece on the department and the FBI. I would not have participated in it if that's what it was."
"Are you interested in whether or not the world's premier law enforcement agency relied on a work product produced and paid for by the Democratic National Committee?" Gowdy asked. "If they relied on [the dossier] half, is that significant enough for the American people to know? If they relied on it at all, would you want to know that? If you're the judge, do you want to know if a third of what you're providing to the court was paid for by a political opponent?"
"Whether it was relied upon 80% or 20%, do you want to know that the DNC paid for material that was never vetted, and was included in a court proceeding? Do you want to know whether or not the primary source in these court proceedings had a bias against one candidate? Do you want to know whether he said he'd 'do anything' to keep that candidate from being elected president?"
Source: https://www.realclearpolitics.com/video/2018/01/28/gowdy_to_chris_wallace_do_you_want_to_know_the_truth_about_whether_steele_dossier_was_used_to_get_fisa_warrant.html